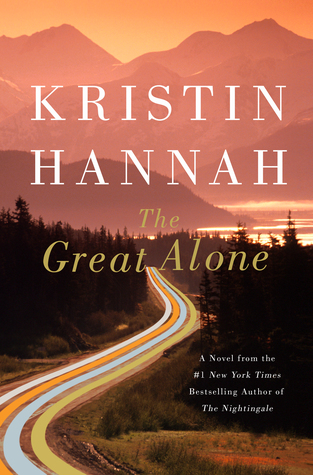 I confess I added 'The Great Alone' to my wtr list solely because I'm a fan of Kristin Hannah. I have zero romantic notions about Alaska or even the slightest interest in experiencing its wildness. I know myself well enough to say I'm not someone who has the heart or survival skills for it. After finishing this book, I'm sure the people that live there wouldn't want me in their state either!! It's not a land for weaklings or the faint-hearted. Not sure which of those categories I fall into, I just know I don't possess the necessary pioneering spirit.

Having said all that, it was interesting to read about our countries last "frontier" and it's non-conformist population. The author did an outstanding job conveying the realities of living there. The long, dark, difficult winters followed by short but spectacular summers. Summers that can't be enjoyed despite enduring the winter. It's the season for natives to work twice as hard to make sure they can survive the next winter. It was mentioned several times that you can make one mistake there then the next one will kill you. The reader is left in no doubt it's a (beyond) harsh environment that takes a specific personality to inhabit it. 

I was pulled into the story despite the fact it's not a life that appeals to me. I don't usually care to read about domestic violence (of which there's plenty within these pages) & I couldn't see myself in any scenario depicted but I enjoyed the book nevertheless. It will never be my favorite Kristin Hannah book but that's purely subjective, not anything against her incredible storytelling abilities.